XR 300 Hose guard
Indexator Rotator Systems can offer a powerful hose protection for XR 300 models.
Part number: 6005767
Perfect for both normal and demanding environments
For high standards of durability
Robust and strong in one piece
XR 300 Hose protection fits XR 300 LS and XR 300 T LS.
Installation of the hose protection is very easy, and is done with four screws and washers.
Dimensions: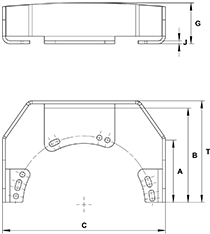 | | |
| --- | --- |
| A: 144 mm | B: 208 mm |
| C: 360 mm | G: 100 mm |
| J: 8 mm | T: 228 mm |

For more information on XR 300 Hose protection and to order, contact rotator@indexator.com