Total solutions from crane tip to tool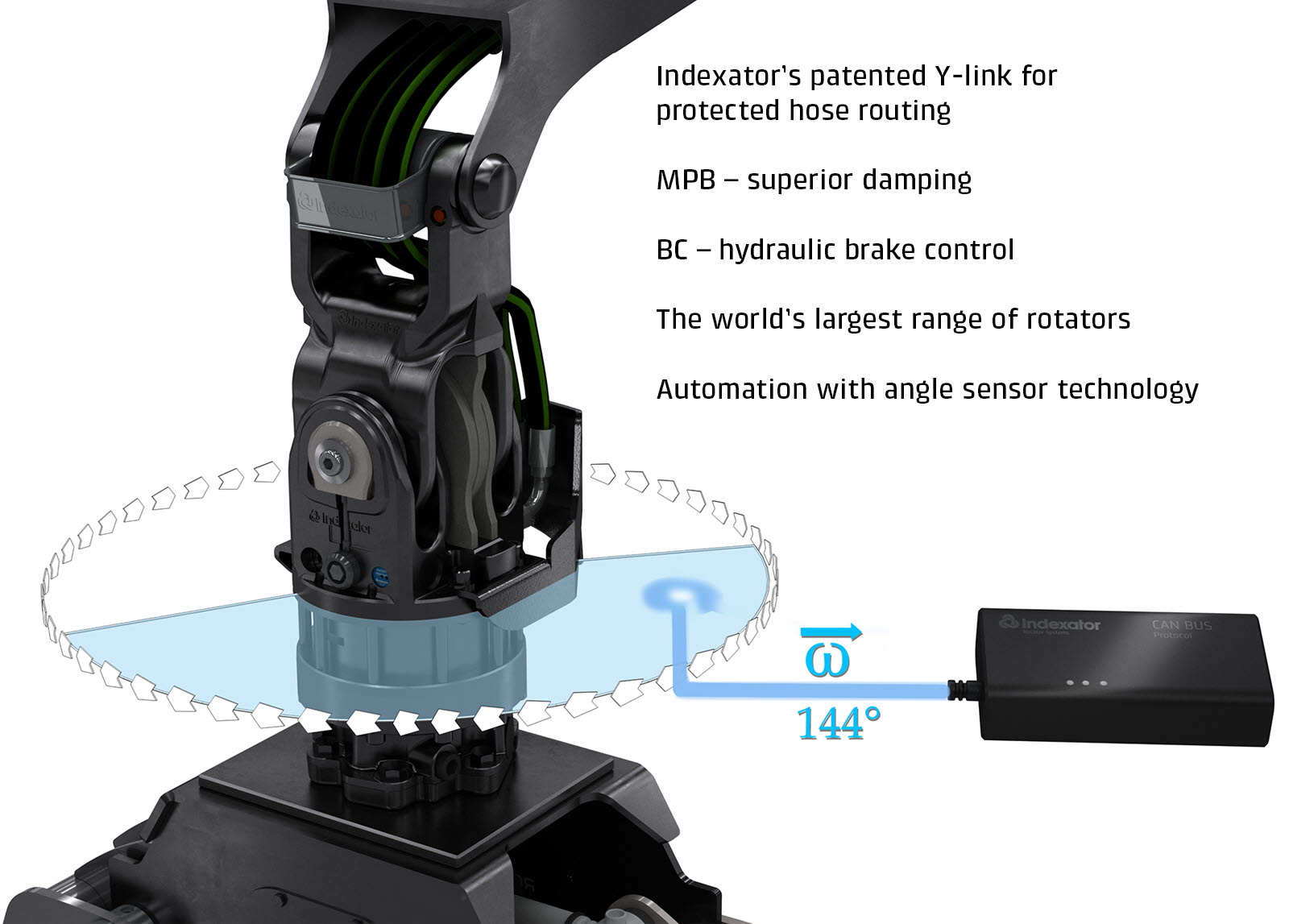 Innovation and product development form natural parts of Indexator's operations, and we seek to provide our customers clear added value from crane tip to tool. Every part of this chain is optimised to provide the best control, safety and productivity while also helping the customer minimise wear, costs and environmental impact.
Indexator's patented Y-link for protected hose routing
Protecting the hoses with Indexator's patented Y-link reduces the risk of leakage, which means greater productivity, lower costs and lower environmental impact. The Y-link is a costeffective solution that can be combined with a number of models – everything from unbraked links to the most advanced swing damping systems.
The advantages in brief:
Full swing angles
Lower costs
Increased productivity
Reduced environmental impact
Increased service life for hoses
MPB – superior damping
Indexator's patented* and inverted swivel allows extra low-profile rotators with MPB swing dampers, also patented*. What's more, our proprietary MPB disc brake technology (multi plate brake) provides rapid, safe and controlled damping. This provides your machine with a number of important qualities:
REDUCED WEAR
Forces on the crane and head/grapple are reduced as the MPB swing damper
effectively absorbs the kinetic energy in the rotator and tool.
IMPROVED CAB COMFORT
Flexible braking means movements are not propagated into the cab.
IMPROVED PRODUCTIVITY
High braking effect combined with smooth swing damping shortens application and handling times.
SERVICE-FRIENDLY
The design means service intervals are further apart and the unit is easier to maintain. It also makes wear part replacement quick and easy.
BC – hydraulic brake control
Greater precision when weighing. The hydraulic brake control function (BC) is available as an option on Indexator's tried-andtested MPB brake links. BC activates the brake when this is advantageous, but more importantly, it disengages the brake when it is not required. The brake function is engaged when the grapple does not have any load. When the grapple is loaded, the brake is
disengaged and the precision of any weighing is not influenced by braking moment. In all, this means we can combine precise weighing with good swing damping.
The world's largest range of rotators
Indexator offers all types of rotators, everything from large and powerful models
for the most demanding tasks to small, flexible rotators for simpler work. Our rotators are used all over the world in forestry, general cargo handling and material handling. This puts us in a unique position to operate in close cooperation with major machine manufacturers within all kinds of applications.
Automation with angle sensor technology
Indexator's patented and verified system enables the machine to receive information about the tool and the position of the rotator as well as angular velocity. Productivity, profitability and safety increase by including Indexator's smart rotators in partial or full automation systems.
*PATENT
Indexator has a number of patented and patent pending technical devices that make our products unique.