From valves to world-leading technology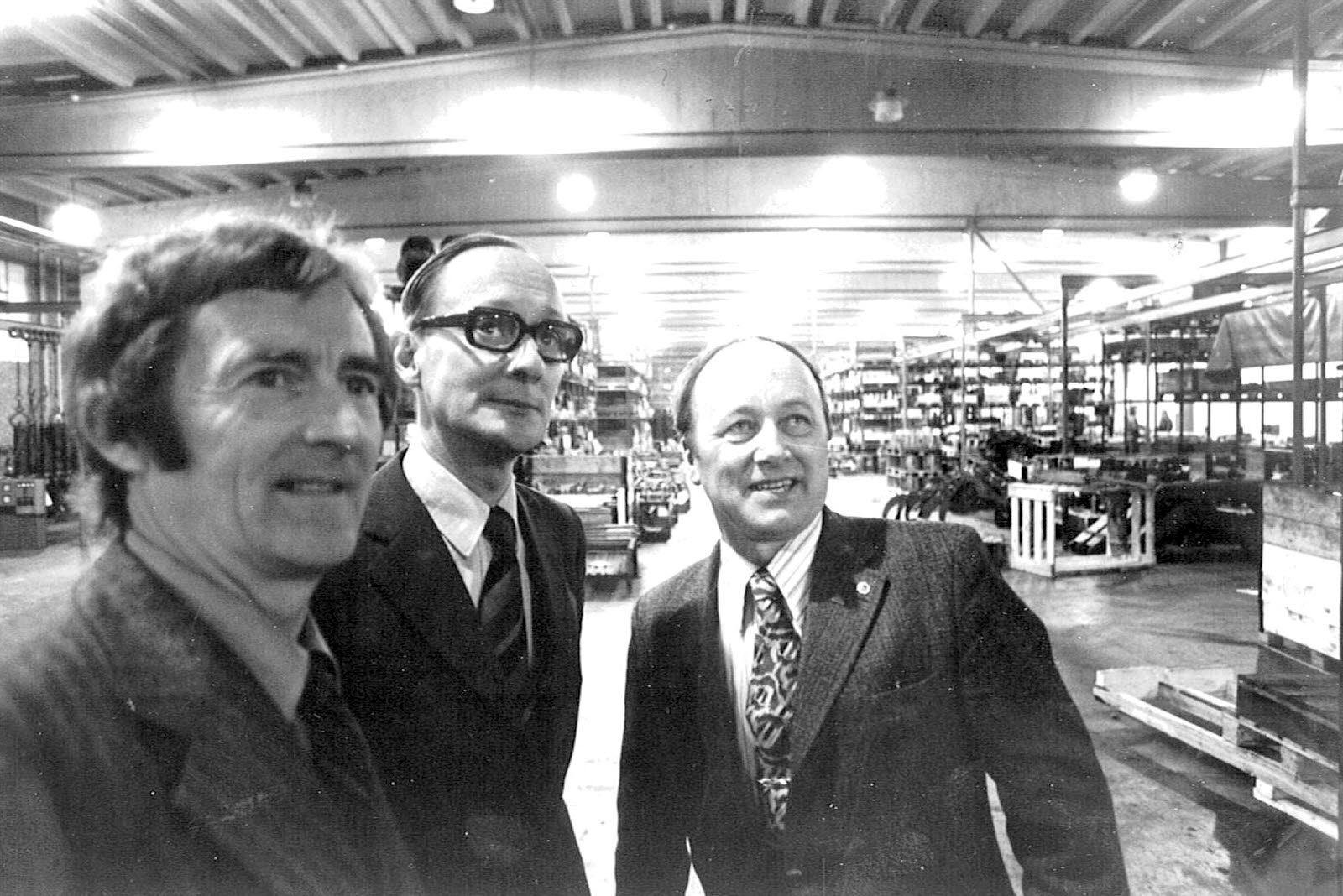 Close to the rushing waters of the Vindel River lies Västerbotten's' quickest growing industry today. How could Allan Jonsson, the haulage contractor from Vindelånäset ever imagine that his entrepreneurial spirit would end as a number of world-leading companies? This is the story of Indexator.
A motivated and driven contractor grew up in north Sweden in the interior of Västerbotten in the small town of Vindelånäset just outside Vindeln. He found himself working hard in the forests as a seller of excavators, a crane maker, business leader and inventor. The story of the founder Allan Jonsson is amazing.
In the '50s, he formed the company Cranab together with Karl-Ragnar Åström. Karl-Ragnar was the contractor from Brännland who had already begun manufacturing front loaders with the company Ålö.
Cranab continued working on developing and selling hydraulic timber loaders - a product the world had never seen before. This proved to be a success. Other companies soon began to realize what was happening in the small town of Vindeln.
At this time, the company Hydraulik Indexator AB was manufacturing hydraulic valves in Norrtälje and was a subsupplier of Cranab. The company struggled financially for some time. Towards the end of the 60s, the company's owners decided to move operations to Vindeln and, after a while, Cranab decided to buy Hydraulik Indexator AB.
When Allan Jonsson decided to sell his shares in Cranab to Jonsered, he was ready to try something new. This meant him taking the small subsidiary, Indexator, with him and, in connection with this, Allan took the concept of a hydraulic rotator that would rotate 360 degrees unrestricted.
- 'There was great enthusiasm, but we had a shaky start and we had to feel our way forward.' 'Things went as far as Dad setting a deadline for the project - if we had not succeeded in producing a final product by Christmas 1978, we were going to give up', says Anders Jonsson, Allan's son.
But gradually, the company started to get its rotators in order. This was something the market also picked up on and it was not very long before production was profitable.
In 1983, three of the children took over the company; Hans, Anders and Liselottie, together with chief accountant Åke Karlsson. The manufacturing of hydraulic valves was sold and the company focused on manufacturing rotators. Rumors of the rotator quickly spread and Indexator became the world's biggest manufacturer of rotators, a position it still holds today.
At the beginning of the '90s, Indexator took an interest in a product that could both tilt and rotate implements on excavators. The company Noreco in Umeå had been developing and selling tiltrotators very successfully but went bankrupt in 1991. This gave Indexator the opportunity to purchase the content of the bankrupt estate and the Rototilt® trademark.
- At the beginning Rototilt® was assembled in a small corner of the rotator factory. 'This quite quickly became totally untenable and we had many discussions on where manufacturing should be done, but finally the decision was made that the heart of our operations needed to continue to be in Vindeln', Anders Jonsson tells us.
Indexator invested more than SEK 100 million in a new production facility with an area of 6000 m2, entirely dedicated to the manufacture of Rototilt®. The factory was opened in 2007.
In order to remain world class and develop the products, a testing and checking plant was built over three floors and opened in 2005. Full-scale tests are carried out in the plant under extreme conditions and, in the laboratory, there is also a topometer that can measure irregularities in materials at minute levels, a unique piece of equipment that is very rare in the private manufacturing industry.
In order to strengthen the profile of driving and leading technology in its industry, Indexator has also invested resources and competence in materials research for several years. The result is an operation that develops materials and techniques that can be used not only within Indexator but also licensed to other companies.
Through the years, the Rotator and Rototilt® product areas have continued to grow. In 2012, Indexator formed a group including the companies Indexator Rotator Systems AB andIndexator Rototilt Systems AB.
On October 1, 2014, the ownership changed and Anders Jonsson is now owner of Rototilt Group and Hans and Pia Jonsson took ower the ownershop of Indexator Rotator System AB.
On January 3, 2019, The owners of Indexator Rotator Systems AB Pia and Hans Jonsson signed an agreement to sell Indexator to the industrial business group Lifco. Lifco will acquire 100 % of the shares of Indexator. Indexator will be positioned as an independent unit within the Lifco business area "Demolition & Tools".
Lifco is the owner of more than 140 companies worldwide with a total annual sale of more than 21 billion SEK.
Lifco is a long term industrial owner with a strong commitment for developing profitable niche companies. The Lifco business strategy is based on key-words like decentralization, local decision making, simplicity and business focus.
For more information see www.lifco.se